The following excerpt is from an article dating to the 1870s (we believe between 1870-1875), by an "Emily H. May". This may be from Peterson's magazine, but it is not certain as to what publication it is from.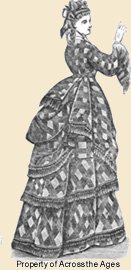 "We give here a walking-costume. The material for this costume is plaid woolen serge, either solid blocks of black and white, or the mixed plaids of blue and green. It is made with one skirt, just to touch, which is trimmed with two flounces, slightly full, cut on the bias, nine inches deep. These flounces are trimmed with worsted bullion fringe, two inches deep, mixed to match material. There is a Polonaise waist, cut to fit the figure, buttoned from the throat all the way down the front. The edge of the Polonaise has a bias band of the material, two inches wide, and below that the fringe. As may be seen, this Polonaise is much shorter than those of last season. There is a box-plait cut separate from the waist, and set on at the neck at the back, coming down about nine inches below the waist, the end of which is trimmed to match the bottom of the Polonaise. This is belted in at the waist, and may be dispensed with if preferred. A tight coat-sleeve, with a wide frill at the wrist, cut on the bias, and also trimmed with the fringe. These serges cost from seventy-five cents to one dollar per yard. Fifteen to sixteen yards will be required, and seventeen yards of worsted bullion fringe, from forty to sixty cents per yard. A lighter and cheaper material than serge can be bought in plaids, from thirty-seven to fifty cents per yard."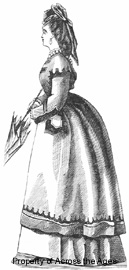 "We next give a walking-suit. This suit is made of two shades of brown Empress cloth or poplin. The under-skirt is of the dark shade, and perfectly plain. The Polonaise is of the light color, and cut long and straight at the bottom, and hangs plain, without being looped in any place. The bottom of it is trimmed with a bias band of the dark material, three inches deep; above that is a piping of the same material, put on to simulate scallops. Pockets, trimmed with the dark shade, and also the cuff of the coat-sleeve. A turn-down collar, and piping, like the bottom of the skirt, is continued around the arm. Eight yards of the dark color, and six of the light, will be required. There should be considerable contrast between the two shades to this costume effective. Poplin, at seventy-five cents per yard, is of very good quality. Of course, the more expensive ones are finer and better."
Artwork is October (1877) by James Tissot, courtesy of CGFA.

Please contact the webmaster if you are experiencing any technical difficulties with this site.
Home
About
Additions
Articles
FAQ
Feature
Links


Newsletter


Poll
Reviews
Resources
Sewing


Upcoming



©2003 Across the Ages