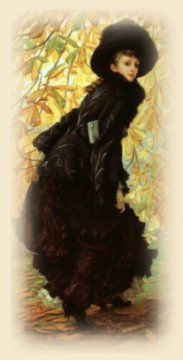 January 2005: This site is no longer being updated and will be taken offline shortly. Some of the content has been moved (or will be) over to my new site: Elegant Musings. Please adjust your bookmarks and links accordingly. Thank you.
Artwork is October (1877) by James Tissot, courtesy of CGFA.

Please contact the webmaster if you are experiencing any technical difficulties with this site.
Home
About
Additions
Articles
FAQ
Feature
Links


Newsletter


Poll
Reviews
Resources
Sewing


Upcoming



©2003 Across the Ages