Research
Collections
Regency
Cinema
Suppliers
Sewing
Costume
Miscellaneous
Webrings
Banners

Links open in separate windows for ease of viewing. Look for

, which indicates a new addition.




Research & General Costume Information

Christine's Costume Page

Civil War Fashion Bibliography

Clothing of the 1830s

Costume Classroom*

Costume Gallery The Elizabethan Costume Page--This site has an amazing amount of information on Elizabethan costuming. Also has an extensive collection of how-to articles, including the custom corset generator! Elizabeth Stewart Clark--Lots of information and even free patterns for 1860s garments.

Flowers of the South

Godey's Lady's Book

In Timely Fashion--A new site showcasing styles and fashions of the past. Includes a pattern review section, fashion in film, articles on 'past dressing' and more! Le Couture Parisienne--A favorite site of mine, with tons of images and information on just about any time period you could want!

Sense and Sensiblity's Vintage Images--Large selection of images from the 1790s to the 1950s.

Victoriana

1835 Dress



Museum & University Collections Online

Charles Frederick Worth Collection--A online collection of some stunning gowns in the collection of The Museum of the City of New York. Columbia College Women's Costume Collection--A nice sized collection; browse by decade. Drexel Historic Costume Collection--Online collection of Drexel University. A small, but nice selection of garments; mostly 20th century. Hermitage Digital Costume Collection--Talk about breathtaking! Be sure to check out some of the gorgeous 1910s gowns. Well worth a visit, especially since some of the gowns include close-ups that I haven't seen on other museum sites. Kent State University Museum--A wide selection of garments pictured here, from the 18th century to the 20th. Kyoto Costume Institute--This museum has a supurb array of garments that have been pictured in such boks as Revolution of Fashion and more recently Fashion. Now available on the website over 200 images from the collection spanning from the 18th century up to the 1940s. LACMA Costume Collection--You have to sift through quite a lot to find what you're looking for, but it's a great resource!

Memorial Hall Museum--New England museum with nice costume collection. Search by type and time bracket. MET Costume Collection--While certainly not all of the extensive costume collection, it highlights 50 pieces online. Smithsonian Museum of American History--A nice collection of dresses and gowns ranging from the 19th to late 20th centuries. Philadelphia Museum of Art--A nice smattering of photos from an exhibit, Best Dressed: 250 Years of Style. Texas Fashion Collection--An amazing array of beautiful garments, from the 1830s up to the late 20th century. Valuable resource. Texas First Ladies Gown Collection--A nice selection of gowns spanning the 19th to 20th centuries. University of Washington's Fashion Plate Collection--An amazing array of fashion plates from the 18th century up to the Edwardian era. Fabulous!!

Victoria & Albert Musuem Acess to Images--Wonderful selection of pictures from the V&A's costume collection; one of the best known collections in the world. Search by garment type or type in keywords like "dress" or "gown".

Women's Clothing 1750-1919--Part of the Démodé site, this is an impressive listing of clothing images online. A must-see resource.

Regency/Empire Research

Austentation

Costume Gallery's 1800s Page

Friends of the English Regency Links

Jane Austen Magazine

Le Couturière Parisienne's 1800s Page

Lizzy's Costumes, The List (P&P2 related)

History of Opera Gloves

Regency

Regency Fashion

The Regency Fashion Page

The Regency Gaderobe




--I visit this site often to check out pattern reviews, links and resources, and plenty of notes on construction of Regency era garments. A goldmine of information.


Cinema Costumes

Celluloid Wrappers: Costume in the Movies

Costuming the Emmas--Interesting little article on costuming in the two most recent movie adaptions of Jane Austen's "Emma".

Ever After Costumes--Great constructions notes on the beautiful Renaissance style gowns from the movie.

Lord of the Rings Costume Research--THE place to find information on recreating the cotumes from the Lord of the Rings trilogy.

Lizzy's Costumes, The List ("Pride and Prejudice" related)




--Great pictures of many of the character's from Star Wars I & II, including a extensive section of pictures of Padme Amidala's costumes from Attack of the Clones!



--Stills from just about every 'costume' movie you could imagine!

Patterns & Suppliers

Baltazor Fabrics

Farthingales*--Canadian company that carries everything you'll need to construct a corset. They also sell patterns and kits. I've been extremely pleased with the quick service and quality of the boning they sell--definately the place to look for boning!

Harper House

Miller's Millinery

Past Patterns*--Authentic historical patterns--some of the best on the market, I've heard. They also sell what the company terms "vintage revival" patterns that are reprints of actual Victorian and 20th Century patterns.

Originals by Kay--Great Civil War reenacting resoureces; from the correct undergarments, to gowns, accesories, as well as a large supply of period correct fabrics for sewing your own gowns.

Reproduction Fabrics

Sense and Sensibility*--Beautiful patterns--from Regency gowns to a 1940s Swing dress. Plenty of other features on the website too! Be sure to check out the message board!

Vintage Pattern Lending Library







Sewing Related

Buttonhole Tutorial--Finally! If you've been looking for instructions online on how to do a buttonhole by hand, here is a great little page with explanations and diagrams.

Fabrics.net--Fabric information and facts (not a supplier).

The Great Pattern Review--This site has reviews of nearly every historical pattern on the market. From the big commercial companies, to patterns from books like Janet Arnold's Patterns of Fashion series, you'll find it here!

The Rennaissance Tailor--Another site with it's focus on the Rennaissance period. But a lot of the techniques described here can be applied to other sewing projects.

Vintage Sewing--Haven't explored this one fully yet, but it certainly looks promising! This site has a couple vintage sewing manuals posted, which are quite interesting to look over.


Dress Diaries & Miscellaneous Costume

For a more extensive listing of dress diaries, please visit my other site, Elegant Musings.

Démode--Excellant dress diaries and how-to articles! She also has photos of many of her very finished projects, which are really something!!



The Edwardian Lady--A quarterly online 'newsletter' full of tidbits on Edwardian fashion and genteel living. Festive Attyre--If Renaissance costuming is your thing, this site is worth a visit. Great dress diaries chronicling construction of Rennaissance garb.



In Timely Fashion--A new, but growing site on dressing in an 'old fashioned' manner everyday. Also includes pattern reviews, a reenacting column, and articles on costumes in films. Katherine's Dress Site--I visit this one quite often. Be sure to check out Katherine's beautiful sewing projects, including her recreation of the Padme Amidala's Picnic Dress from Star Wars Episode II and Eowyn's refugee gown from Lord of the Rings: The Two Towers. She also has pictures of many fashion plates, period garments, and is now offering free sewing patterns!



--Home of a very talented seamstress. She has made some amazing garments from historical periods, fantasy and movies.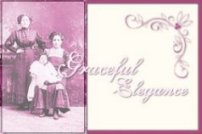 --Heather's new fashion site!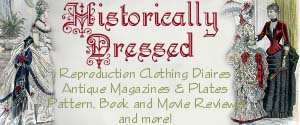 --I just love this site! Plenty of pictures of ongoing costume projects, vintage clothing, and even vintage patterns. Be sure to check this one out!




--Jenny's dress diaries are really something to read through for tips and suggestions! She has done some great work; be sure to check out her new dress diaries on an 1820s corset and 1910s tea gown!




--Lots of information on creating Regency gowns. Be sure to check out her suggestions for a basic Regency wardrobe. She also has information on the Titanic era and a good selection of links!



Miscellaneous

eBay --The online market place for all kinds of things: from clothes to vintage patterns!

Live365--Online radio programs; from rock 'n roll to classical, to (my favorite) 1940s swing.

Victorian Trading Company*--A beautiful selection of all things Victoriana! From victorian inspired clothes, to stationary supplies, to home decor items.

Zing's Art





--While this site carries a lot of of antique-styled items for sale, they also have a great e-zine as well as "guides" to various aspects of times past.




Webrings
The Edwardian Fashion SiteRing

This site owned by
Miss C.
SiteRing by Bravenet.com




Please Note: I cannot vouch for each and every site listed here. Please use discretion when ordering from suppliers and reading the research of others. Companies that I have personally used and can recommend are marked with a "*".

If you have a webpage and have linked to this website, please e-mail me the url, and I'd be happy to consider listing it here.

Found a "dead" link?--Please e-mail me with the name of the link that is no longer working, and I will do my best to find the correct address, or remove the link.

Home
About
Additions
Articles
FAQ
Feature
Links


Newsletter


Poll
Reviews
Resources
Sewing


Upcoming



©2003 Across the Ages