Click on thumbnail to enlarge.
The selection of a becoming hat is a momentous affair to the women of discriminating taste, even when she has youth and unusual beauty on her side. When she possesses merely average good looks it assumes the proportions of a campaign-often, indeed, of a tragedy. For, while the hat she seeks must of necessity have style and chic, the hats she finds-though possessing both of these qualities-nine times out of ten make her, to quote her own expressive phrase, "look like a fright".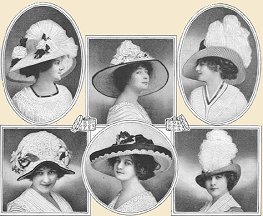 It can be said generally of the midsummer millinery that it is not only graceful, but also adaptable. The outré effects that distinguished the earlier season have quite disappeared, and in their place we have hats that are either large and picturesque or small and piquant, with a few that belong to the desirable medium type that almost any woman may wear. The models chosen for this month's illustrations embrace all of these types.
The pretty summer hat shown in the first photograph is a glorified version of the popular mushroom shape. The frame is covered with finely-shirred Brussels net, a full coquille of which adorns the left side of the front. Clusters of tea roses comprise the rest of the trimming.
The second model is made of a fine Tagal braid, the wide, coquettishly bent brim being edged with a narrow binding of black velvet. The crown is completely covered with white lilac blooms, a large rosette of lace completing the decoration.
At the right of the upper row is illustrated a very smart, dignified hat of black chip, the crown being high and the brim rolled up rather abruptly at the side. The facing is of black and white striped silk, a panache of willow plumes effectively completing the picture.
The quaint little Empire hat at the left of the lower row is covered entirely with Cluny lace, the brim being bound narrowly with black velvet. Sprays of poinsettias provide the only trimming.
The next illustrations portrays a lace-covered hat of decidedly novel and becoming character. Cerise velvet edges the sharply upturned brim and is used for a flat bow at he back. A spray of geraniums, with foliage, accentuates a highly effective color scheme
The sixth model is of black chip, the decoration consisting of ostrich plumes.-August 1911
Note:This article was taken from a 1912 issue of McCall's Magazine. The techniques describe here have not been tried, and therefore Across the Ages cannot vouch for their work-ability. The instructions and/or patterns provided here are for your own use only, and may not be reproduced in any form for sale or commercial use.
Please contact the webmaster if you are experiencing any technical difficulties with this site.