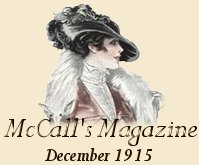 The Parisienne at the Play-- "Our chief amusement this winter is the theater; we wear our pretty gowns quite as we did when there were dinners, or balls, and the old-time light-hearted gaieties of Paris were in full swing.
"Evening or theater gowns, as we call them now, never were prettier. They are fashioned of rich brocades and grosgrains, embroidered in metal and hung over slips of white net worked in silver; the skirts, polonaise at the front and sides, and bunched into bustle draperies in the back, with loose, square-cut panel trains, look as if they might have walked out of Watteau portraits. The strict severity of the daytime and street costume makes it appear as though the designers were exerting themselves to have the evening dress and wrap very feminine indeed, with ruffles and draperies. However, there is nothing really frivolous about these; rather, they impart the quiet dignity of the old-time grande dame.
"These short, full skirted evening frocks, with their Watteau panels, and great, fluffy bunches of drapery, are wonderfully suggestive of the first Empire; one almost expects powdered hair, and pink cheeks flecked with piquant patches of black. Now and then, though, one sees a fluffy dance frock that is delightfully frivolous. A dainty debutante wore one the other evening, at the play, that was made entirely of net and ribbon. With this gown she wore a pair of silver brocaded slippers with pink kid heels. Her hair, without ornament, was dressed after the mode of the moment-in a softly rolled puff, from the top of her head to the nape of her neck.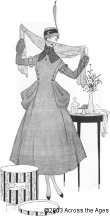 "You know how fearfully I have been predicting the crinoline, the bustle, and the various other bugaboos of the fashion world, but now that the are really here, you have no idea of how fetching they are. I saw a Bulloz model some days ago, made on the lines of 1880-1885; the full, gathered skirt was hung over a regulation crinoline. Premet, too, favors the bustle in many models, one skirt is fully three inches shorter in back than in front.
"Our theater coats are, many of them, made of faille and trimmed with colored pannes. One of the prettiest coats worn for many a year was of Nattier blue faille lined with rose-pink; a dainty blonde American looked simply charming in this coat. Another wrap, worn the same evening by one of our Paris beauties, had one of the smart new shoulder yokes topped with a huge collar of panne; this coat was of soft grey faille, trimmed with rose-colored panne; it had great bishop sleeves, which the weight of the panne caused to fall in wonderfully graceful folds.
"The Comedie Francaise has opened its doors, also the Opera Comique and the struggle for some signs of cheerfulness and gaiety has begun. As usual, each season, comes the query, "Is anything radically new in the fashions being shown?" We have been slowly working up to the rounded waistline, and back to the idea of corsets; surely it is better than waking up one morning to find that the gown of the night before is hopelessly out of date and passť.
"There is little else to talk about these days, except clothes, but there is variety enough to make them fascinating, n'est-ce pas?"--By Our [McCall Magazine's] Paris Correspondenet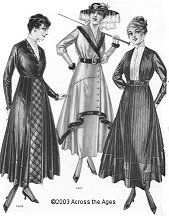 Figure 1
6885, Ladies' Redingote Dress-A modish dress is illustrated here, embodying more than one of the smart features Fashion dictates today. The use of contrasting materials is one of these, charmingly illustrated in the underskirt, which gives the effect of a panel in front, and is developed in one of the effective plaid taffetas combined with a plain satin.
6881, Ladies' Dress-An attractive design for a one piece dress, which may easily be made at home, is illustrated here, developed in a striped taffeta, combined with plain taffeta in the sleeves, and bias bandings.
6887, Ladies' Dress or Jumper Dress-This dress is well designed for warmth and cold days, being smartly trimmed with the modish fur banding. The model is suitable for a light-weight broadcloth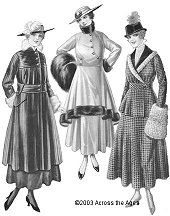 Figure 2
6898, Ladies' and Misses Coat-This handsome coat will solve the problem of the girl who hesitates between a one-piece gown or a suit for general wear this winter. It is made of a striped velour coating, which harmonizes nicely with the soft trimming of fur on the collar and cuffs.
6871, Ladies' Coat-The most necessary article in the woman's wardrobe today is the separate coat, and when it must be made to do service for different occasions, it has to be chosen with care as to color and material. Broadcloth, navy blue serge of a firm quality, or one in dark mixture coatings are suitable, and with a banding of fur on collar, cuffs and lower edge, the coat may be worn with almost any dress, or a separate blouse or skirt.
6508, Ladies' Three Piece Skirt-This skirt model may be made with suspenders, if desired, and combined with an attractive blouse, thus making it practically a one-piece dress. Besides the suspenders, the skirt has the popular patch pockets, attractive and at times very useful.
6901, Ladies' Coat Suit-The coat suit is something which no one can afford to overlook when selecting winter apparel. There is always a certain satisfaction and pleasure in possessing a trim suit; it is a practical, serviceable, and necessary addition to every wardrobe.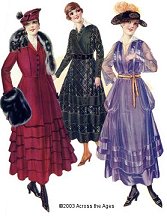 Figure 3
6859, Ladies' Coat-This design is suitable for serge or whip-cord. 6857, Ladies' Skirt-Youthful and attractive is this model.
6876, Misses' Jumper Dress-An attractive dress may be fashioned after this youthful model. It is suited to serge, broadcloth, or taffeta, and is appropriate for many daytime occasions.
6867, Ladies' Waist; With Jumper-This is a jumper design well suited to contrasting materials, as illustrated. 6899, Ladies' One-Piece Pannier Skirt-We have here the attractive combination of chiffon and satin.
Click on the thumbnails below to view other fashion illustrations from 1915.




Please contact the webmaster if you are experiencing any technical difficulties with this site.