Fashions for September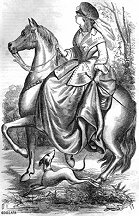 Figure 1--Equestrian Costume.
We present a very graceful equestrian costume. During the summer months it has been made of a white dimity; but for later season it may be of habit cloth. Dark green is perhaps the most becoming color. The corsage is a basquine, cut high, and buttoning up midway in front, with a revers and collar, turning down like that of a man's coat. A brace is formed by a small bias, which envelopes the top of the sleeves, beneath which it dimishes behind. On the shoulder is an inch width, but grows narrower as it is prolonged on the lappet. The lappet is sewed upon the body in front, as far as the side pieces of the back. The body is cut rather pointed in front, giving a graceful turn to the figure. Buttons form the trimmings. The sleeves, which are hald tight, are rounded below at the outside seams of the cuffs. Pockets give an appropriate finish. The skirt is of Amazon cloth. A black silk cravat and small standing collar harmonize with the remainder of the costume.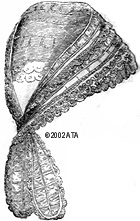 Figure 2--Lace Fichu
The lace body is composed of white and black lace, with transparents of pink ribbon and bows.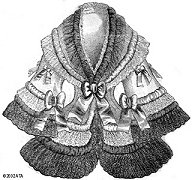 Figure 3--Lace Body.
The fichu is of tulle, with puffings, quadrilled with narrow ribbons and lace.
June | July | August | October | November
Artwork is October (1877) by James Tissot, courtesy of CGFA.

Please contact the webmaster if you are experiencing any technical difficulties with this site.
Home
About
Additions
Articles
FAQ
Feature
Links


Newsletter


Poll
Reviews
Resources
Sewing


Upcoming



©2003 Across the Ages