Fashions for November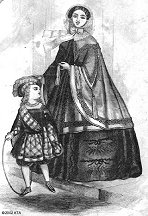 Figure 1 & 2--Promenade Costume and Child's Dress.
The cloak, represented in figure 1, may be either of cloth or black velvet. Its distinguishing features are the circular sweep of the ample sleeves, the pointed berthe, and the upper sleeves or flap, with its pendant tassel. It is trimmed with black guipure lace. The robe is of mazarine blue, with the pattern en tablier, woven upon the side breadths. This graceful flowing drapery bids fair to supersede flounces, which are still, however, much worn. Two skirts are now frequently worn, the upper one being slashed at the sides, to show the pattern wrought upon that below; the sides of the opening are confined by cross-bands of the same, or by ribbons which may terminated in noeuds.
The Child's Dress consists of a black or green velvet coat; the sleeves, which are cut up, fall open from a little below the shoulder, the point of separation being marked by a rich fancy button; with tight sleeves, which may be either of the velvet, or of plaid similar to that of the skirt. The hat is of plush, with a large ostrich feather.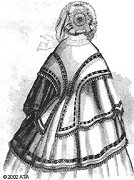 Figure 3--Cloth Cloak.
We illustrate another elegant cloak, which may be of cloth of any color. The pelerine, which is continued rather below the level of the full drapery of the sleeves, forms the front of the garment. The trimming, which consists of richly wrought black velvet, with a fringe of small drop buttons, is peculiarly beautiful. This is drawn partially down to the waist by an inside cord.
June | July | August | September | October
Artwork is October (1877) by James Tissot, courtesy of CGFA.

Please contact the webmaster if you are experiencing any technical difficulties with this site.
Home
About
Additions
Articles
FAQ
Feature
Links


Newsletter


Poll
Reviews
Resources
Sewing


Upcoming



©2003 Across the Ages