Fashions for October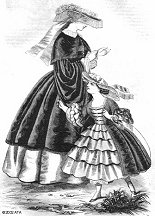 Figure 1 & 2--Walking dress and Child's Costume.
In accordance with the demands of the season, we present illustrations of two styles of cloaks, which we select on account of their novelty and elegance. Figure 1 is a black velvet pardessus, with a pelerine, somewhat cut away in the front, and deeper behind. The sleeves, which are very long and full, are caught up in folds, upon the front of the arm, and fall in a graceful sweep. The ornaments consist of fancy buttons and a narrow fringe.
The Child's Costume is intended for a girl of seven to ten years. The hat is of plush, with satin ribbons, and a fall of white lace. The dress is of salmon-colored merino, with a succession of graduated flounces. The jacket is of green velvet, the sleeves of which are frilled, and cut open at the top to admit the passage of those of the dress; they are then closed by being buttoned. The bands crossing the breast are of velvet, with large pearl buttons or cameos.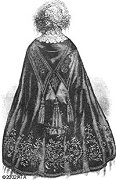 Figure 3--Velvet Cloak.
Figure 3 is likewise composed of velvet, which is richly embroidered-as given in our illustration-though other modes of embellishment are in vogue. The peculiar style of the hood gives a decided character to this garment.

Figure 4--Puffed Sleeve.
Dresses woven with flowers in pyramids, etc. at the sides are prepared for the Fall. Double skirts will be much in vogue. There is one mode-when greater display is desired-of slashing up, at the sides, the upper one, and joining it by a means of cross-bands of velvet; thus allowing the ornament wrought upon the under-skirt to appear through the opening. Flounces continue to be much in favor. Plain flowing sleeves are extensively worn, either with frills or of the Venetian style, long and pointed. Perhaps, however, the majority prefer them with frills or puffs; the simplicity of the former
June | July | August | September | November
Artwork is October (1877) by James Tissot, courtesy of CGFA.

Please contact the webmaster if you are experiencing any technical difficulties with this site.
Home
About
Additions
Articles
FAQ
Feature
Links


Newsletter


Poll
Reviews
Resources
Sewing


Upcoming



©2003 Across the Ages